About EZ Schematics: Electrical CAD Software
I don't want to waste your valuable time by telling you that our software is the best electrical schematic program in the market today, even though (for what it's designed to do) it is.
So here's what it's designed to do. To transform a schematic scribbled on a piece of notebook paper into a professional looking diagram that's easy to produce and takes only a fraction of the time that the competition offers.
We offer the Standard NEMA Electrical Symbols in the exact proportions you've grown used to and are comfortable with. And we couple those symbols with a snap feature that places everything at precise locations for perfect printed results. A schematic you would be proud to attach your name to.
Did we mention fast? Did we mention easy? We know that as a field technician, you need to develop a drawing quickly and you don't have time to learn how to use a new program. That's why we've designed EZ Schematics to be as self explanatory as we have and that's also why we offer 100% free technical support. If you've got a question, I've got the answer. I developed the program and almost exclusively, I'll be the one to answer your questions - free of charge. Any day of the week - I will reply in some fashion. Usually by phone and at my own expense. Please excuse the two weeks vacation I take with my family.
Below, is an illustration of the program interface. The program symbols (embedded and included with the software) are available on the left of the drawing area and the symbols you create are visible to the right.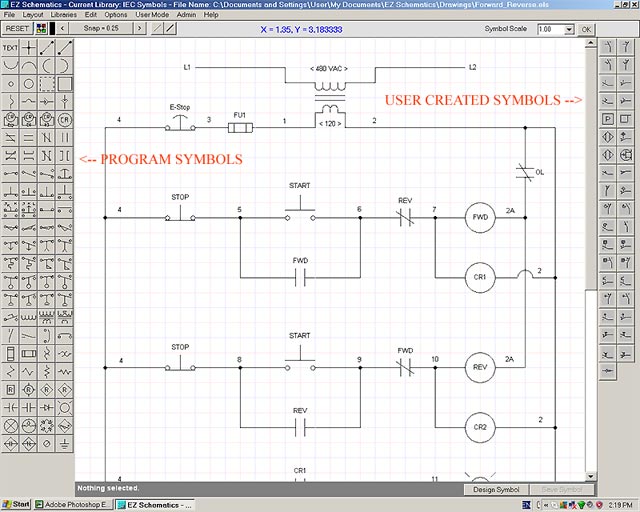 The Pro version offers many additional electrical and hydraulic libraries, but if all you're interested in is NEMA electrical, the standard version will work just fine. As you probably already know, most electrical schematics are drawn with the symbols horizontally oriented. That's another reason why our software is so fast. The symbols are already oriented in the way you would normally use them, though we do offer alternatives.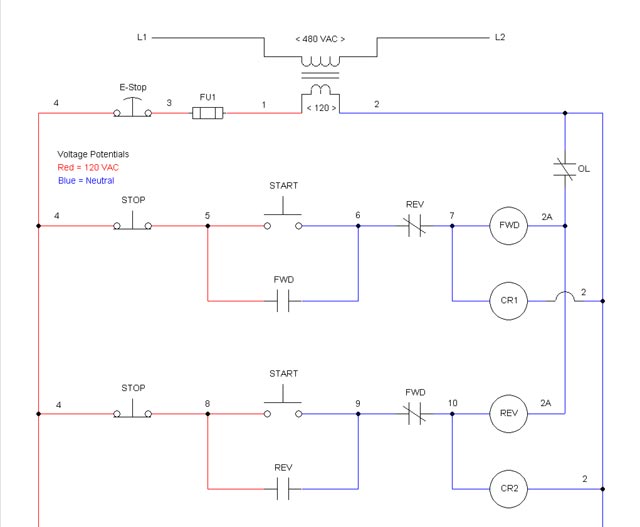 In the above circuit, we've highlighted some parts of the schematic (diagram) in color to demonstrate the principle of voltage potentials. In this case, all of the high side voltage (120 with respect to neutral), is displayed in red. The low voltage (neutral) is represented in blue.
This gives the end user a visual concept and understanding of the voltage differences (voltage potential) throughout the circuit. Now the circuit becomes more dimensional in the sense that it's not just a black and white schematic (diagram), but rather a more dynamic illustration.
Some of our satisfied customers include:
Advanced Urethane Technologies
American Mfg
Aquion PTY Ltd
Avery Dennison
Bourgault Industries Ltd
Central Arkansas Water
Clear Fork Valley Electric
Corey Compressor
Genpak
Halliburton
Harris Machine Tools
HB-TECHNIK
Husky Corporation
Idaho State University
Kinder Morgan
Knape and Vogt
Lightship Technologies
Parker Hannafin
Schneider Electric
Solar Group
Solar Turbines Incorporated
Super Steel
Superior Roll & Turning LLC
TCI Machinery
Temple Inland
University of Detroit Mercy
Weather Shield
Standard Packaged Symbols Include but are not Limited to:
Relay Coil
Normally Open Contact
Normally Closed Contact
Normally Open Push Button
Normally Closed Push Button
Mushroom Head Push Button
On Delay Timer, Normally Open
On Delay Timer, Normally Closed
Off Delay Timer, Normally Open
Off Delay Timer, Normally Closed
Normally Open Limit Switch
Normally Closed Limit Switch
Normally Open Held Closed Limit Switch
Normally Closed Held Open Limit Switch
Normally Open Pressure Switch
Normally Closed Pressure Switch
Normally Open Flow Switch
Normally Closed Flow Switch
Normally Open Float Switch
Normally Closed Float Switch
Normally Open Temperature Switch
Normally Closed Temperature Switch
Normally Open Foot Switch
Thermal Overload
Magnetic Overload
Circuit Breaker
Disconnect
Transformer
Inductor
Fuse
Lamp
Solenoid
Resistor
Reference Point, 2 Styles
Connection Point
Jumper
2 Position Selector Switch
3 Position Selector Switch
And more...
See the image below
You can download EZ Schematics here, it's free to try and there is no risk of virus or adware. I've double-checked.