About EZ Schematics: Electrical CAD Software
Whether you're an Electrical Engineer, a Student or an Industrial Maintenance Electrician, there's simply no easier way to draw and print electrical schematic diagrams than with EZ Schematics. Read our press release.

This software program was designed by an industrial electrician with over 20 years experience in both troubleshooting and training in control relay logic (similar in many regards to PLC logic). The application, established in a line diagram format, provides the end user with the ability to quickly and easily transform logical concepts into a professionally diplayed electrical schematic.

Admittedly, as a stand-alone CAD program, EZ Schematics does not offer all of the features nor the capabilities of AutoCad and other well established CAD software applications. But with the learning curve set far lower than the aforementioned, you'll never find an easier method to transform electrical relay logic concepts into digital documents (as line diagrams) that can be saved and printed with professional appearance.

What makes EZ Schematics a better CAD program for producing electrical schematics includes the following:
1. Ease of use. There's no other Electrical CAD program available that's easier to learn than EZ Schematics.

2. Almost all of the electrical symbols are created in 1/2" scale increments designed to align perfectly with the default snap (also set at 1/2'), thus making precise placement of the symbols a simple procedure.

3. Our default library is the NEMA symbols library from which most U.S. electrical schematics are developed. Thus, there's no waste of time in pouring over thousands of choices you won't use. We also offer an IEC library.

4. When inserting a symbol, smart choice labeling is employed. For example, when inserting a control relay coil, "CR" is automatically attached as the standard beginning label anticipating it to be followed by "1" or "2", etc.

5. The "Line" control (the most popular device) becomes readily available by simply double-clicking anywhere in the drawing.

6. Labeling the wire numbers is performed easily and precisely. Just click and type at the location of choice.

Never before has there been a CAD program easier to use than EZ Schematics. If you need to draw electrical schematics and/or diagrams quickly and easily, this is a software application you can depend on.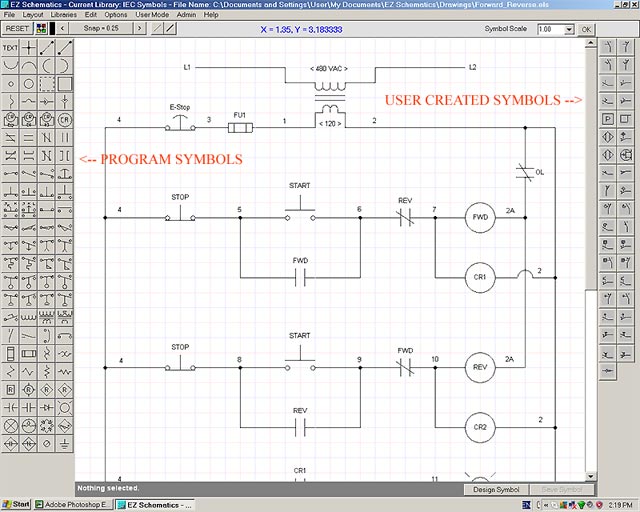 (From the developer) "Being somewhat proficient in AutoCad myself, I'll choose EZ Schematics any day of the week over AutoCad for drawing an electrical circuit. When it comes to putting onto paper a concept very quickly and precisely, our software will win in every case. And it's because of the simplicity we've built into it. It doesn't get any easier than this."
In addition to the software being a simple to use CAD program, its rich features also make it easy to utilize the program as a training mechanism. Case in point shown below.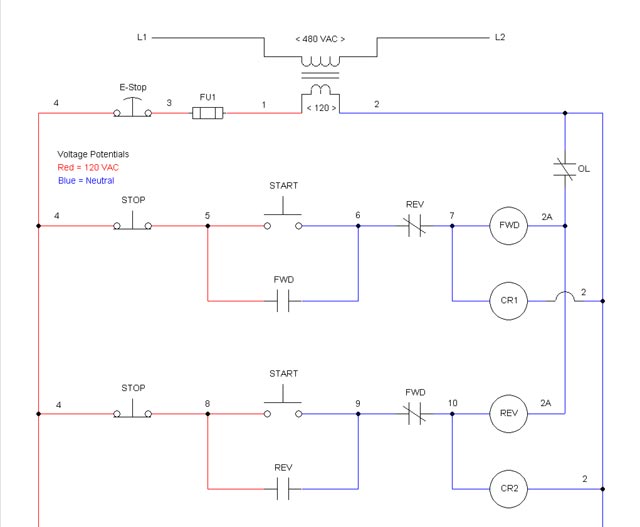 In the above circuit, we've highlighted some parts of the schematic (diagram) in color to demonstrate the principle of voltage potentials. In this case, all of the high side voltage (120 with respect to neutral), is displayed in red. The low voltage (neutral) is represented in blue.
This gives the end user a visual concept and understanding of the voltage differences (voltage potential) throughout the circuit. Now the circuit becomes more dimensional in the sense that it's not just a black and white schematic (diagram), but rather a more dynamic illustration.
Standard Packaged Symbols Include:
Relay Coil
Normally Open Contact
Normally Closed Contact
Normally Open Push Button
Normally Closed Push Button
Mushroom Head Push Button
On Delay Timer, Normally Open
On Delay Timer, Normally Closed
Off Delay Timer, Normally Open
Off Delay Timer, Normally Closed
Normally Open Limit Switch
Normally Closed Limit Switch
Normally Open Held Closed Limit Switch
Normally Closed Held Open Limit Switch
Normally Open Pressure Switch
Normally Closed Pressure Switch
Normally Open Flow Switch
Normally Closed Flow Switch
Normally Open Float Switch
Normally Closed Float Switch
Normally Open Temperature Switch
Normally Closed Temperature Switch
Normally Open Foot Switch
Thermal Overload
Magnetic Overload
Circuit Breaker
Disconnect
Transformer
Inductor
Fuse
Lamp
Solenoid
Resistor
Reference Point, 2 Styles
Connection Point
Jumper
2 Position Selector Switch
3 Position Selector Switch
And more...
See the image below
You can download EZ Schematics here, it's free to try.